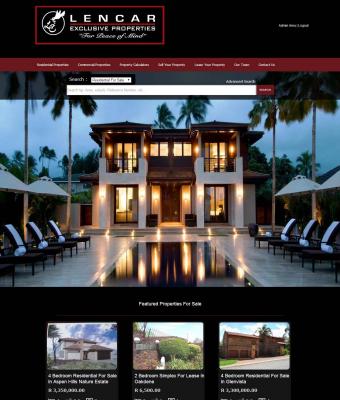 Lencar Exclusive Properties
Lencar: A Real Estate Website
This real estate website has extensive administration tools to keep the website up to date due to the companys high income of work. The website is highly responsive, with multiple email forms and contact area all linked to the real estate agent responsible for that specific property.

The properties are categorised and each category can have an infinite amount of properties listed. Each page is search engine optimized so that even an outside search engine can type the area/agent/address/country/price and find that specific property. Multiple property websites provide back links to the Lencar website, which is great for search engine ranks.

This website is also equipped with its own in-house search engine with an advanced search option to help clients find the exact property they are looking for. On the main pages there are sliders to show the properties that are featured and can be altered within the websites administration area with ease.

Calculation pages are able to help clients find out how much they can get on a loan, what minimum income they need to purchase a property, how much their installments must be and what their bond status will be.

The websites administration can list, delete, and edit any property from a property listing which have search engines to make the procedure quick and productive. The property listing area of the websites administration has multiple options from mandates, pricing and mark as sold to what features the properties have. There is a large upload area for each property that can upload anything from images to brochures which clients can view and download.

Real estate agents can be added just as easily as properties with the ability to link that agent to a specific property. Agents are listed on the agents page which indicates the properties they work with, which can be clicked on to view that agents properties within the specified area.

The administrative area has the option to view how many views a property has and the amount of requests on that property.

Use this website as a starting base for the specifications of your website. If you click the "Order Product With Similar Specs Button", you can remove items your website does not need.
See this website's specifications below: