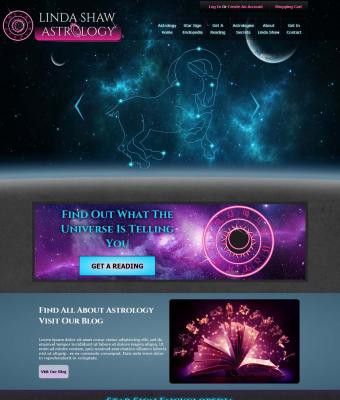 Linda Shaw Astrology
Linda Shaw Astrology: An Information, Blog, Event & eCommerce Website
Linda Shaw Astrology is a mixture between an eCommerce website and an information website. This website captures data from its administration area and stores it on one database that is shared between Heavenly Luxuries and Linda Shaw Astrology. Due to the Heavenly Luxury product line having qualities that Linda Shaw Astrology describes in detail, they need to share the information between each other to increase the speed of information and product to the client.

The Linda Shaw Astrology administration area is able to create, edit and delete star sign content which includes updating images and specifications for the current year. The blog administration area controls how the blog posts are laid out, edited, created and deleted as well as allowing registered users to comment on the blog. The comments are controlled by a monitoring system that filters out abuse, advertising or any unwanted comments. The questions and answers administration area has a very similar layout to the blog; all questions are categorized according to the administrator and can be added upon. The blog area allows the user to add videos, imagery, documentation and online content which can be shared to other social networks and can be added to the client area as a favourite item by the user.

The bulk email system allows documents to be uploaded that are attached to a generated email for clients that are registered for a newsletter. The bulk email system has a timed and dated email relay output specified by the website administrator.

The star sign pages are aligned with Heavenly Luxuries to indicate which gems and jewellery are appropriate to that specific star sign. Clients can choose that jewellery and purchase it directly off the Heavenly Luxuries website.

Clients can register to Linda Shaw Astrology to make appointments with Linda Shaw with an appointment system that is linked to Google Calendars. The appointment system alerts clients via email, on their Android devices and via Gmail for appointment times with a link to a personal online live chat system.

All appointments and questions made to Linda Shaw are directed to a payment gateway before the client can schedule an appointment or get a question answered. All questions are listed in the personal client area of the website, allowing clients to comment and review Linda Shaws answers.

The administration area can schedule events that are displayed on the home page such as group online live video chats that clients can access, TV appearances, live video streams and much more.

The entire website is dynamic which means every page is easily updated through the administration area making the website constantly up to date according to Linda Shaws standards.

Use this website as a starting base for the specifications of your website. If you click the "Order Product With Similar Specs Button", you can remove items your website does not need.
See this website's specifications below: